I love Diane of CraftyPod's post on using the vintage Weave-It Loom. Perfect timing as our upcoming issue of CRAFT: 08 is the weaving issue!
From the pages of CRAFT: 08


"Weaving on the Go, Build Your Very Own Lap Loom and Warp it too!" by Kristin Roach, pgs 58-61. Preview CRAFT: 08 the Weaving Issue now in our Digital Edition.
CRAFT: 08 is on newsstands Tuesday, August 5th!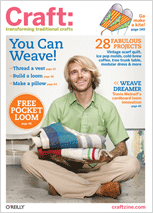 Subscribe to CRAFT Magazine
Craftzine readers can now get $5 off a yearly subscription by entering the code MCRAFT. That's just $29.95 for 4 quarterly issues!