Megan of Not Martha shares her spooky take on a classic dinner dish with this fun tentacle pot pie.
This is an easy and slightly creepy Halloween dinner. I very simply cut dough into long strips to create tentacles that drape down the sides of a bowl. It's awfully fun to break off tentacles and dunk them into the pot pie while eating.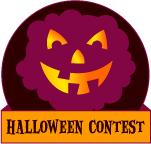 Inspired to craft something for Halloween? Be sure to enter it in our CRAFT Halloween contest to win cool prizes. Costumes, decor, food – whatever you create for Halloween is welcome in the contest. Read our full contest page for all the details. Deadline to enter is November 2.