The White House has invited 26-year-old maker pro and former journalist Lisa Q. Fetterman to the White House Maker Faire happening Wednesday, June 18.  She co-invented Nomiku, the first ever sous vide immersion circulator for the home. On the honor of being invited to the event, Lisa remarks, "It's frickin' amazing! There are so many great makers out there, and I'm shocked and happy they chose me. But I heard that nothing's going to be on fire at the White House Maker Faire — worst Maker Faire ever," she jokes.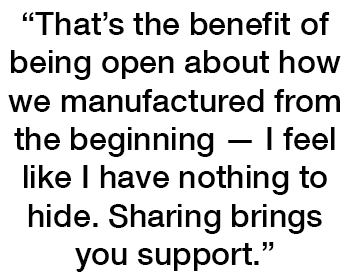 The idea for Nomiku came about when she and her then-boyfriend (now husband) Abe Fetterman saw a sous vide cooker while watching Top Chef, and Lisa suggested they should save up money to buy one. At $2,000, Abe said, "No way, we can make that." One hardware store trip later, they had the supplies they needed to make their first open-source prototype. They got their business off the ground in 2012 on Kickstarter, earning more than double its $200k goal, and also with a round of seed funding.
The pair traveled between the United States and China to start production of Nomiku, and it was from this experience that Lisa learned how to spot a good factory and tips and tricks for a successful trip to manufacturing metropolis Shenzhen. Lisa also gave a talk at MakerCon in May on "How to Fund Your Maker Startup."
Nomiku is now operating out of San Francisco's Mission District with six employees, including co-founders Lisa, Abe, and Wipop Bam Suppipat. The company name, "Nomiku," is a shortening of the Japanese "Nomikui" (飲み食い) which means "eating and drinking." The main goal of the company is to empower home cooks, and future products will be designed with that goal in mind.
Lisa reflects on company growing pains:
We've come upon a lot of obstacles, but we've never approached any of them as a fail. Each moment I was learning. Some things were bumps in the road that were new challenges, but there have been no catastrophic failures, so we've been lucky. And it's not that scary, because we have the support of the community. People know our ethos and what we're going after. That's the benefit of being open about how we manufactured from the beginning — I feel like I have nothing to hide. Sharing brings you support.
---
President Obama is hosting the first-ever White House Maker Faire on June 18 to recognize the contributions of makers who bring creativity and technical ability to a broad range of projects. If you are a maker or a friend of makers, please become an advocate for expanding opportunities for making and makers in your community.
To show your support for growing the maker community, we encourage you to sign the "Building Maker Communities" pledge and put yourself on the map!