Today's 5, 4, 3, 2, 1, Things is about talented and vintage-inspired Penni Moussa, of Penni Pops Designs. She is just a doll.


One Project You Are Particularly Proud Of
1. My first quilting project for my Bestie Annie's first baby, Leonardo. I know that the word "gollywog" is not politically correct, but I love them! They conjure up so many vintage memories, and have such a nurturing feel to them. More importantly, to me this quilt holds all of the love in my heart for a friend who has seen me through thick and thin, and visa versa!
Two Mistakes You've Made in the Past
1. Wearing an ill-fitting petticoat when I was 10 years old to a BIG family function. Needless to say, it sooooo embarrassingly ended up around my ankles!!
2. Not keeping my Nanna's and Mum's vintage clothing! Aaarrrggghhhh…


Three Things That Make Your Work Unique
1. The love that I put into everything I make!
2. My ability to see the beauty and potential in any preloved garment, then use my stash of vintage laces, beads, and ribbons to give it a new life.
3. Each one of my garments is a one off creative, spur-of-the-moment design! To me this represents how special and unique YOU ARE! You will NEVER see one piece like another!
Four Tools You Love to Use
1. Definitely my Jenome sewing machine and overlocker! I love Jenome Products – so easy to thread and use! My darling husband bought them for me for Mother's Day a few years ago. How lucky am I?!!!
2. My hot glue gun! Every time I walk through the house with one in my hand, my husband cringes! I can hear him thinking, "What is she up to now! Look out – Mum's got the glue gun again!" The last time I did this, I HOT GLUE GUNNED gorgeous big artificial flowers to the frame of our bathroom mirror! Hubby was aghast!
3. My hands! Thank goodness I fractured my toe and not my finger at a recent family wedding! And no … it was not due to any intoxicating substance (because I don't drink) or my own stupidity! It was actually an accident involving a very apologetic friend and the metal leg of a chair that landed on my toe! Anyhow, I often think of how lost I would be if I couldn't use my hands to create stuff. My darling Nanna had dreadful arthritis in her hands in her later years, and had to stop her beautiful crocheting. It is worth a reflection of gratitude for what we have.
4. My beading tools, to add that extra sparkle, bling, and richness to a garment!


Five Inspirations
1. My beautiful Nanna, who passed away in 2005. She always taught me that a good/more expensive garment or product will last for years versus the "cheap and cheerful" option. She always encouraged me to sew, knit, or crochet, and bought me my very first sewing machine … and yes, it was a Jenome! Her style and elegance was unsurpassed. One of my fondest memories of my Nanna was her wearing her fur coat over her PJs on a cold Melbourne morning whilst watching me hunt for Easter eggs on Easter Sunday in her front garden! Her penchant for red lipstick and Chanel perfume was also passed on to me … not to mention her love of shopping in "Georges!"
2. My incredible Mum. What can I say about a woman who was my Mum, best friend, confidant, and greatest inspiration? Mum battled lupus for most of her life, and sadly lost her fight with this dreadful disease in 2004. She loved her sewing and knitting, and was exceptional at both! She was also an amazing artist, and was always doing something creative. She taught me how to value the little things in life, how to pay attention to detail, and how to be grateful for what we have. She mentored me in the fine arts and the meaning of symbolism. Her fineness and grace was a sight to behold. I feel so blessed to have had her as MY MUM.
3. My gorgeous kids and husband for always encouraging me to follow my dreams and for giving me the time to indulge in my creativity. They put up with the mess I make, and the racks of garments that are always in the way. They keep me focused on the present moment and what is important in life.
4. The divine Audrey Hepburn! It is her inner beauty as well as her outer beauty that inspires me. The elegance and grace that Audrey Hepburn exudes is awe inspiring!
5. A beautifully dressed lady (…a stranger!) who I saw walking through the city of Melbourne when I was about 12. I will never forget what she looked like! She was adorned with a pillbox hat, a superbly tailored 1940s skirt suit, seamed stockings, and high-heel shoes. She was the epitome of poise and elegance, and I remember thinking, "I want to be exactly like her when I grow up!" And so … the vintage journey began.
Now it's your turn! Share 5, 4, 3, 2, 1 Things about yourself on your blog, and add the button we've made. Then, send me a link and I'll include it in a future roundup!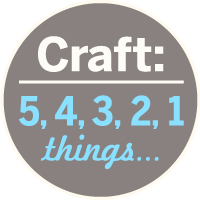 Grab a button unless you hate cuteness. Just copy this code and paste it into your blog template.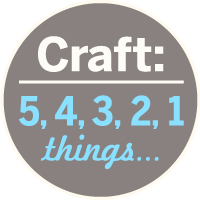 Discuss this article with the rest of the community on our Discord server!