Haley Pierson-Cox is the ideal craft crush. She combines photography skills with excellent writing to make satin tap pants look easy. She's ambitious enough to sew her own dress for the Emmys. She is a lively member of the craft comunity who connects through social media, and also gets involved outside of the interwebs by attending shows and events. And if that weren't enough, she has excellent taste in stylish eyeglasses.


One Project You Are Particularly Proud Of
1. My favorite project is definitely my Pillowcase Pencil Skirt Tutorial. It was so much fun to make, and it's really versatile.
Two Mistakes You've Made In the Past
1. I have a growing pile of skirts/slips with 26″ hips, due to a design mistake that, apparently, I am destined to make over and over again. Do you have 26″ hips? Nope, neither do I.
2. I got rid of all of my knitting supplies several years ago, thinking that I was never going to be interested again after college. Fast forward a few years, and, wouldn't you know, I'm a craft blogger.


Three Things That Make Your Work Unique
1. I'm a pan-crafter, so I usually bring several skills into each project or tutorial. I especially like to include crochet or embroidery in unexpected places!
2. I love the process of learning, so my tutorials tend to include notes on the mistakes I've made and how I got to the right technique. I'm not embarrassed to try new things, screw them up spectacularly, and then figure out where I went wrong, and that honesty makes me a good technical craft writer.
3. I try to make and write tutorials for items that are just as useful as they are attractive. I make things that are meant to be used, not put in a drawer for safe keeping.
Four Tools You Love To Use
1. A notebook. I love lists, so I always carry a notebook around. I find that writing something down is a necessary first step for actually getting it done.
2. My serger. How did it take me so long to discover the magic of a serged edge? I could babble at length about perfectly trimmed edges and the beauty of a lingerie seam, but I'll spare you.
3. A crochet hook. If there's a more versatile tool out there, I've yet to find it. I certainly use mine to crochet, but it can do so many other things! Need to fish a drawstring back through yoga pants? Crochet hook. Need to turn out corners on your shirt collar? Crochet hook. Need to hold up your hair while you're writing a tutorial? Crochet hook. See what I mean?
4. Social media. One of the things I like most about crafting is the community that so naturally forms around making and creating. I've made so many friends and learned so much just by connecting with other crafters through blogging, Facebook, and Twitter. Those networks–and the knowledge they hold–are truly an invaluable resource.


Five Inspirations
1. Gram, my great grandmother. She was smart, a talented writer, and well-read at a time when many women weren't, and never tried to hide her brainy side. Also a prolific crafter and a whiz in the kitchen, I'm pretty sure that there wasn't anything she couldn't make.
2. Antique markets. I could wander around all day looking at items from eras past. I especially love trying to divine the use of tools that I've never seen before and inspecting the construction of old garments.
3. Classic industrial design. I like straight lines, right angles, and functionality. Whether it's hardware drawers or an old secretary desk, classic industrial design makes me feel calm, organized, and productive.
4. Other bloggers. Whenever I'm feeling particularly uncreative, skimming through my RSS feed and seeing what amazing things other people are making never fails to give me ideas and get me excited again about making.
5. Small towns. I grew up in a small town in the Midwest, and spent years trying to get as far away from it as possible. Now that I've lived in Brooklyn for years, I find myself recognizing the creativity and ingenuity that was constantly being displayed in the tinkering, fixing, and weekend projects that were always happening around me as I grew up.
Craft wants to invite everyone to participate in this series. Learn how after the jump.
5, 4, 3, 2, 1, Things About YOU
CraftyStuffs
Amy Anderson of ModgePodgeRocks
Colleen Jorgensen of Mural Maker
SillyPearl
Tea-an-Toast
Wendi Gratz
Jojoebi

Now it's your turn! Share 5, 4, 3, 2, 1 Things about yourself on your blog, and add the button we've made. Then, send me a link and I'll include it in a future roundup!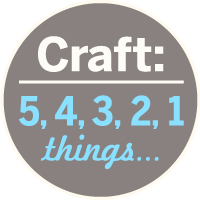 Grab a button unless you hate cuteness. Just copy this code and paste it into your blog template.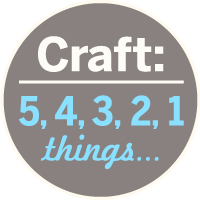 Discuss this article with the rest of the community on our Discord server!