photo by Penny Adams
So I recently stumbled upon the work of Ohio-based maker Keith Corcoran, and I'm in awe. Halloween is over, but I'm wishing I could go back in time and make a trip to Keith's "Funhouse" to experience the totality of his "haunt." A cotton candy cauldron, spooky skeleton doling out entry tickets, and a really creepy clown in a rocking chair are just some of the props littering his lawn. This guy shows what is possible by recycling salvaged materials, modding existing products, and having a vision for what the finished installation might look like. Oh and fun – he clearly has lots and lots of fun along the way! Keith's skills include carpentry, painting, engineering and electrical engineering, and animatronics, among other skills I'm sure. Check out the rest of this post for some wonderful photos of Keith's building process which I hope inspire your next Halloween haunt!
The centerpiece of Keith's haunt was his human-gobbling giant clown head and glowing funhouse sign. The clown head is completely hand-painted. The sign measures 18′ wide and 5′ tall, and each letter was handmade from plywood, roofing flashing, and a string of C9 lights mounted inside. All of the sections for the funhouse face were printed on transparency and then overhead projected onto plywood, traced, cut out, painted, and assembled. The result is fantastic:
Using shipping palettes, Keith sketched out and his wife assembled this cotton candy cauldron, complete with a zombified server and child clown begging for more puffed sugar:

photo by Penny Adams
Also using shipping palettes, Keith sketched out and fabricated this spooky ticket booth. The skull atop the sign is a nice touch, as is the wainscoting effect from the palette wood:

photo by Penny Adams
This is my favorite element, the creepy clown in the rocking chair which operates a Jack-in-the-Box. Keith modified a store bought skull prop for the clown's head. This included using ping pong balls to produced those pronounced cheek muscles, and using newspaper and paper towels to produce pocky, porous skin texture. The rocking motion of the chair was produced using a hacked 12v wiper motor from a vehicle. This thing is so creepy I'm honestly not sure I would make it past it for just a lollipop!

photo by Penny Adams
All photos/images by Keith Corcoran unless otherwise noted.
---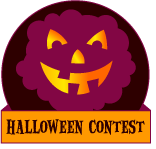 Inspired to make something for Halloween? Be sure to enter it in our MAKE Halloween contest to win cool prizes. Costumes, decor, food, whatever you create for Halloween, is welcome in the contest. Deadline in Nov. 8th, 11:59pm PST.
Read our full contest page for all the details.
Discuss this article with the rest of the community on our Discord server!