5, 4, 3, 2, 1, Things About… is a new profile series on Craft. I started by posing the questions to our very own staff. As soon as you've learned everything there is to know about us, I'll turn the tables and shine the spotlight on you! But why wait for me, when you can profile youself?
Mollie Johanson started by sharing her own answers on her Wild Olive blog, and asking readers to leave links to their own profiles in the comments. She inspired Barbies and Dolphins, Mimicking God's Creation, and Project Random.
We are so excited that the idea has caught on, and want to know 5, 4, 3, 2, 1, Things About YOU! Our crack team created a button for you to add to your site. And when you've got your post up, send me a link, because I never get tired of reading these, and I'll be sure to share as many as I can.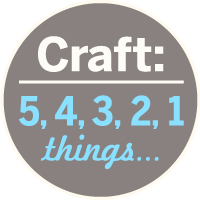 Grab a button unless you hate cuteness. Just copy this code and paste it into your blog template.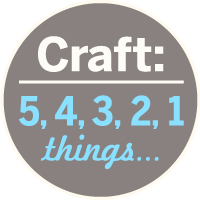 Related:
5, 4, 3, 2, 1 Things About Becky Stern
5, 4, 3, 2, 1 Things About Diane Gilleland
5, 4, 3, 2, 1 Things About Lish Dorset
5, 4, 3, 2, 1 Things About Melissa Abercrombie