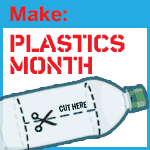 Interesting homemade tool from Instructables user Random_Canadian. The melt chamber consists of a length of 3/4″ iron pipe, the piston head is an off-the-shelf socket wrench, and the piston rod is a socket extension. A temperature controller, a couple of eBay cartridge heaters, a few tufts of fiberglass insulation, and some odds 'n' ends make for a heating system. And a brass hose barb serves as the extrusion nozzle.
Bits of recyclable thermoplastics go in the end of the pipe, and continuous extruded filament comes out the other end. I wonder if RepRap-style FDM printers, which accept plastic filament as feedstock, could use this garage-recycled material?
Discuss this article with the rest of the community on our Discord server!