Beth from Hungry Happenings pretty much always amazes me with her modeling chocolate prowess, but her cauldron candy apple recipe and tutorial completely blows my mind! Every detail is so wonderfully perfect that I'm not sure I'd even be able to eat one. Have I mentioned that Halloween is my favorite?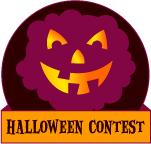 Inspired to craft something for Halloween? Be sure to enter it in our CRAFT Halloween contest to win cool prizes. Costumes, decor, food – whatever you create forHalloween is welcome in the contest. Read our full contest page for all the details.
Discuss this article with the rest of the community on our Discord server!