October is such a fun time for crafting… whether you're dreaming up handmade Halloween costumes or planning a party (or just doing some fun fall cooking and baking), I've found some favorite crafty patterns and products I'm excited for!
Moustache + Superhero Mask = Costume Awesomeness
Friend of CRAFT: Lee Meredith (aka Leethal) is a super-prolific knitting pattern designer, to say the least. One of my favorites of hers, the Old-Timey Moustache, was just re-released as a stand-alone pattern, teaming up with her Superhero Mask as a super-bonus. They were originally published in a bigger quick knits monthly club subscription, but now you can snap them up anytime!


Lee's original version in worsted yarn is fantastic, but I just love the fun fur moustache Monica of kirbymo knitted up! (It's paired in this photo with the excellent Dwarven Battle Bonnet by Sally Pointer, and Monica mentioned that the two patterns were some of the most fun projects she's ever knitted.) Meanwhile, Lee's Superhero Mask is a perfect way to use up bits of yarn from other projects, and a great last-minute option if you're crafting on the fly!


Leethal Old-Timey Moustache and Superhero Mask patterns, $3 (Ravelry link)
Bonnets (and Aprons)
I absolutely love this adorable bonnet pattern from Amy Karol of angry chicken. She designed it in three super-handy sizes (baby, kid, and adult) and you can check out plenty of fantastic handmade bonnets other crafters have sewn in her Mailorder flickr group.


child-sized bonnet by megrje
The bonnet is the perfect starting point for an easy Laura Ingalls Wilder Halloween costume, paired with a cute apron, of course (Amy's Tie One On galleries are endlessly inspiring for sewing or embellishing just the right apron) and a simple skirt and shirt! My daughter Pearl loves her bonnet, so I've been planning her Laura costume around it (although she is two and a half, so things change around here on a minute-by-minute basis, and she has also mentioned wanting to be a monkey or a dog).


For a little pioneer-girl extra, I'm going to bake corn dodgers from The Little House Cookbook for her to carry in a pail or basket, just like the ones Mary and Laura brought to school. And okay, I'm hoping to convert our Radio Flyer to a covered wagon for trick-or-treating… and sew myself a bonnet for good measure, too! (Unless she's a monkey or a dog after all, and then I'll be deep in a crafty plan B making something completely different of course.)
Angry Chicken bonnet pattern, $8

Tree King and Flower Pixie Costume Kits
For a great handmade head-to-toe option for your favorite little one, Purl Soho has just released a set of two lovely handmade costume kits: Tree King and Flower Pixie. They include lush wool felt, charming embellishments for sweet details like crowns and magic wands, and patterns for everything you need.


Both costumes (each in two colorways — Tree King in greens for spring and reds and oranges for fall, and Flower Pixie in pink peony and yellow daisy versions) are darling, and designed to fit children ages 3-7. I'm really, really hoping to see crafty Halloween photos of these on flickr or the Purl Bee – a flower-and-tree pair trick-or-treating together would be adorable.


Purl Soho Flower Pixie ($84.75) and Tree King ($78.95) costume kits
Crafty Coffee Travel Mug
Paint, embellish or glaze your own ceramic travel mug for taking your coffee, hot chocolate, or apple cider on the go this fall. Duncan Ceramics has a nice-sized new blank to-go coffee cup, available on their site or in local shops, that is perfect for adding your own decorations to. It comes with a flexible fitted lid and is hand-washable.


Friend of CRAFT: Kathy Cano Murillo did a very fun blog post on painting and glazing hers in true Crafty Chica style – check it out for a behind-the-scenes peek at Duncan HQ! I can't wait to decorate one for my go-to coffee cup.



Duncan Bisqueware Coffee Travel Cup, $9.70
Skull Lollipops and Bat Cupcake Toppers
I adore Bake It Pretty, and the Halloween-themed decorations she's offering this year are especially awesome. Whether you're hosting a party, bringing treats to work or school, or just decorating for fun, I love the bat cupcake toppers… and who could resist a homemade skull lollipop?!


Snap both up, or choose your favorites from her whole line of Halloween and holiday decorations!


Bake It Pretty bat cupcake toppers ($3) and skull lollipop molds ($2.25)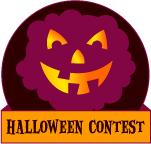 Inspired to craft something for Halloween? Be sure to enter it in our CRAFT Halloween contest to win cool prizes. Costumes, decor, food – whatever you create for Halloween is welcome in the contest. Read our full contest page for all the details. Deadline to enter is November 2.
Discuss this article with the rest of the community on our Discord server!