One favorite led to another today. Apartment Therapy pulled together the best last-minute easy Halloween decor ideas from the queen of the holiday, Martha Stewart. These are great ideas and super-spooky!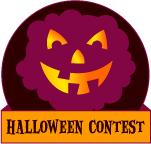 Inspired to craft something for Halloween? Be sure to enter it in our CRAFT Halloween contest to win lots of cool prizes, including a Singer Futura XL 400 sewing and embroidery machine! Costumes, decor, food, props – whatever you create for Halloween is welcome in the contest. Read our contest page for details. Deadline to enter is November 8.
Discuss this article with the rest of the community on our Discord server!