Tina and I had a great time hanging out at Derek and Lauren's The Curiosity Shoppe where throughout the afternoon crafters got a chance to learn how to weave with our cover crafter, Travis Meinolf. I got to film Travis for a CRAFT Video Podcast on weaving which will be up next Friday. You can see all the photos from the event in our CRAFT Release Parties Flickr Pool. Stay tuned for more CRAFT: 08 release parties to happen throughout the country!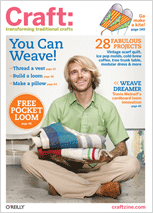 Subscribe to CRAFT Magazine
Craftzine readers can now get $5 off a yearly subscription by entering the code MCRAFT. That's just $29.95 for 4 quarterly issues!
Discuss this article with the rest of the community on our Discord server!