Subversive Cross Stitch's Halloween 2010 kit is now available! Get 4 patterns designed by Katie Kutthroat, a long time contributor to the SCS Flickr group. The $22 kit also comes with instructions, 4 pieces of die-cut-edge material, all the thread you'll need, sparkly detail thread, and one embroidery needle.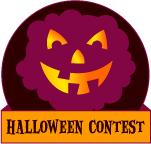 Inspired to craft something for Halloween? Be sure to enter it in our CRAFT Halloween contest to win cool prizes. Costumes, decor, food – whatever you create for Halloween is welcome in the contest. Read our full contest page for all the details. Deadline to enter is November 2.
Discuss this article with the rest of the community on our Discord server!