Elastypography is an interesting font by Sarah Kahn made with stretched elastic bands. You can learn how to make your own handwriting font in the current issue of CRAFT. via Today and Tomorrow.
From the pages of CRAFT: 08:

"Computer Cursive: Create your own digital handwriting font," by Natalie Zee Drieu. pgs 128-129. Preview it now in our Digital Edition.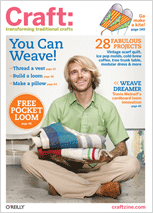 Subscribe to CRAFT Magazine
Craftzine readers can now get $5 off a yearly subscription by entering the code MCRAFT. That's just $29.95 for 4 quarterly issues!
Discuss this article with the rest of the community on our Discord server!