The prolific William Gurstelle has shared over 20 how-tos on the pages of MAKE over the years. Needless to say, he has a lot of materials lying around his workshop, including some relatively expensive clear PVC left over from the Night Lighter 36 stun-gun-triggered potato cannon project that appeared in MAKE Volume 03. He decided the last thing he needed was another potato cannon, so he came up with the simple but great-sounding, and even better-looking, Sound-O-Light Speakers, which appear on the pages of our current issue, Volume 31.
Gurstelle used $10 HiVi B3N speaker drivers, which ended up sounding amazingly good. And for visuals in each speaker, he connected 3 ultra-bright LEDs in series, in parallel with each speaker. At moderate volumes the LEDs pulse in time to the music. We had these boomin' beats at our MAKE booth at Maker Faire Bay Area this year, and they were by far the most attention-getting and talked about project we had on display.
Here's a video of Gurstelle demoing his speakers:

We've shared the full how-to on Make: Projects so you can get started building right away. And if you're wondering what that rad little amp pictured above is, it's the Elekit TU-879S Stereo Tube Amp, built from kit and reviewed in our Make: Ultimate Kit Guide by our own Jake Spurlock.
For those about to rock, we salute you!
From the pages of MAKE Volume 31: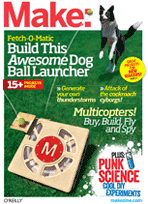 The maker movement is making science exciting again. Forget the lame baking soda "volcanoes" and the zillion-dollar supercolliders — just as punk rock took music back from the supergroups and big studios, "punk scientists" are making inexpensive new tools to conduct real experiments in garages, schools, and hackerspaces. In MAKE Volume 31, you'll learn how to make DIY laboratory equipment (even a scanning electron microscope!), create high-voltage sparks from falling water, control a cockroach electronically, get started in biotech, and see how individuals and schools are networking their data for real scientific discoveries. Plus: Get started with multicopters or servo controllers, and build an automatic dog ball launcher, great-sounding speakers with flashing LEDs, a classic folding-wing Rocket Glider (a new MAKE kit), an iPad music desk, a levitating solar Mendocino Motor, and much more.
Discuss this article with the rest of the community on our Discord server!