Hands down, one of the most rowdy, memorable events that's been at Maker Faire Detroit over the past two years is the Power Racing Series. Yes, grown adults racing around a track on modified children's toys. Why? Their site sums it up best:
The challenge — to create a working electric vehicle for less than $500 using open source tools and tech — encourages progressive use of available technology and inspires our teams to help each other, even in the spirit of lighthearted competition. We believe these inventive creations will eventually inspire the street legal electric vehicles of our future.
The races will be going down in mad style, as usual, at this years Maker Faire Detroit, taking place this weekend, July 28 and 29, at The Henry Ford. We chatted with event organizer Jim Burke to get the inside 411.
1. How did the Power Racing Series start? What inspired the idea and what was the inaugural race? Also, what's your role?
We started the series in 2009 and our inaugural event was held in the back of a dirt lot that the landlord of our hackerspace owned. We had just 6 teams, all from Pumping Station: One, and they were virtually stock machines. We had friends come over and a bunch of kids from the neighborhood showed up, but it was a really small event. I don't think any more than 60 people showed up, perhaps less.
The main inspiration came from one rather active evening when a member found a discarded pink Jeep in the back alley near PS:One. We stuck larger batteries on it and drove around on the roof of our space until somebody suggested that having more of these around would be fun. Then the idea of racing them came to mind. A few drinks later we pretty much wrote the basic rules you know about today.
2. How many races have there been so far? How have they evolved and grown?
We've been adding more races to our calendar since 2010 and we are up to 4 races now (3 sanctioned and 1 non-points exhibition event). We really started expanding in 2011 when Championship races finally meant attending more than one race weekend. I'd say the one thing that has really changed in PPPRS is the level of creativity the teams are approaching. Cars are just getting … interesting. We have wheelie-popping, trailer-hitching, power-sliding $500 electric race cars, and every year somebody ups the ante. On the organizational end I'd say the biggest change is improving how we run the event. As a graphic designer by profession, event management is probably the farthest I could be from my expertise. After a few years trial and error, I'd like to think we have things largely under control. I say that as I write this at the last possible minute. Oh well.
3. Driving fast isn't the only judging criteria here. What else gets points on the track?
Ah, the Moxie points! Those are literally the crowd favorite. Basically we have an Arduino-controlled button board that goes out into the crowd, and next to each button is a team. When the crowd selects a team, they are rewarded actual race points for doing whatever the crowd finds entertaining. This can comprise of acting silly, popping wheelies, epic passes, or just simply catching on fire. The goal is to encourage social engineering; you want teams to not only work the mechanical end of this series, you want them to figure out how to read a crowd and rile them up. I think that social engineering is just as essential in a hackerspace competition as the physical engineering.
4. The $500 total allowable budget really levels out the playing field. What are some favorite cheap but awesome mods you've seen?
J-Squad, one of the original Power Wheels teams, built their car around a $200 starter motor off of a semi truck. There isn't really much logic to this; the car is an automatic drifting machine. The crowd really gets riled up when they see a kid's toy power slide through turns.
Sector 67 has water cooling for their brushless motors this year. Now several teams are equipped with similar systems. Last year they had wireless telemetry that reported motor temperatures to their pit crew. I think it was also equipped with GPS, but since that was over budget it was disabled during the race.
5. The original vehicle to be modded is restricted to Power Wheels and Little Tikes brands. Why did you choose these?
Well, we are kind of permissive of almost any ride-on electric toy now. I think this includes Peg-Perego. We want to ensure that people are, at the very least, starting with a kid's toy. We don't want people just working from a go-kart and calling it a day. Part of the fun from this series is the challenge of taking something that is simply not designed for this kind of punishment and making it work.
6. The Power Racing Series is referred to as PPPRS. What are the extra two P's for?
Back in the 80s, the first ads for Power Wheels featured this jingle. I like to consider the extra P's to be a quiet homage to that song.
7. In the rule handbook, it's hilarious that you use Americar as a possible punishment/penalty. Tell us about Americar.
Americar is the only car that people speak of from the original season of Power Wheels. It was actually destroyed in the first Maker Faire Detroit by Life Size Mousetrap's 2-ton safe. It was a terribly built Power Wheels that was barely modified, aside from steering hooked up in reverse and a fire-prone sound system that blasts "Born in the USA" on repeat until it sets people on fire. The idea was if your car broke we had a "backup" for you that was significantly worse than anything else on the track. We actually have not had Americar for a few years now. I consider it an Easter egg to our rules. Someday I'll resurrect the Americar, but as for this year it is a paper tiger.
8. Tell us about yourself. How did you get started making things and who are your inspirations?
I was raised in a home of making. My father is an engineer in every sense of the word and my mother an illustrator. Both of these disciplines shaped my love of art and science. I used to build things out of anything sitting around the house and really loved cars from a young age. I really admired the artistry in engineering early on. Having a mutual respect for both fields really shapes the kind of art projects you take on, and honestly when it comes down to it, Power Wheels is somewhat akin to a traveling art exhibit. Makers and artists are cut from the same cloth.
I have grown to dearly enjoy the work of artist/engineer Tim Hunkin. His short-run UK series "The Secret Life of Machines" is pretty much the embodiment of the maker spirit. His series explains the history of machines through clever devices he built in his workshop, and his quirky attitude and demeanor really helped defuse the mysteries of the modern world. It's available on YouTube if you haven't seen it, and there hasn't been a show since that has quite captured his careful balance of creativity and scientific inquiry. MythBusters is good, but Tim Hunkin is the best.
9. Describe the growth you see in hackerspaces. What do you think is the key contributing factor?
Community. You need to have a strong community. I also think the modern climate has really benefited this growth. The lumbering economic state of our country coupled with a growing resentment to apathy in my generation has really helped too. Makers my age seek the knowledge of the past to look towards the future. We ask our elders the long-forgotten trades and give these skills a new purpose. The economics of mass production has helped us scale things down to a world of affordable customization. Frankly if things keep going the way they are headed you will see a rebirth of manufacturing in the U.S. I honestly feel that we are on the verge of the next great industrial revolution, and the seeds for this prosperity are right in our neighborhood at your local hackerspace.
10. What do you love most about Detroit?
I feel like Detroit has taken the best of a bad economic situation and given itself a new slate to work with. Everyone I know in Detroit cares about their city and are working to make it better than ever before. As a person who grew up in a city that literally once rose from the ashes (Chicago), I admire that most. Michigan stands to be next center of this new economic prosperity and places like OmniCorpDetroit, i3 Detroit and All Hands Active are the harbingers of change.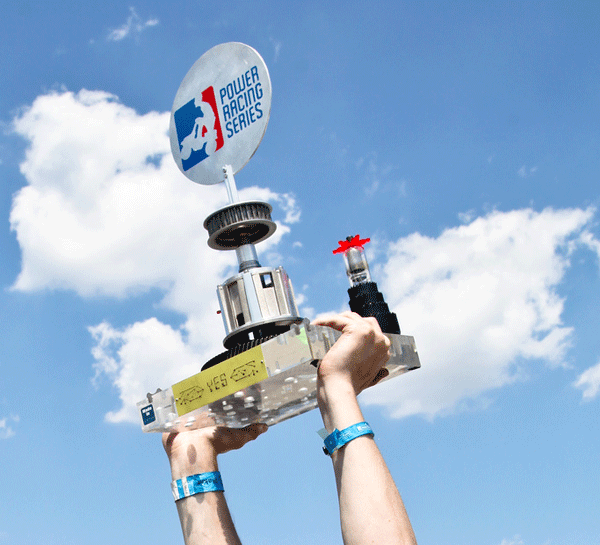 All images from Opacity's Flickr set. Thanks Opacity!
Discuss this article with the rest of the community on our Discord server!