Last weekend, June 23-24 Prague hosted its very first Maker Faire and the first ever in the Czech Republic. I attended to check it out, not fully knowing what to expect from this faire since it was their first. They definitely had an advantage over most fledgling faires with Josef Prusa, the 3D printer creator and long-time Maker Faire veteran at the helm of the ship. With around 180 makers all from the Czech Republic, this show knocked it out of the park.
The Faire took place at the Industrial Place in the Holešovice neighborhood in Prague. This Art Nouveau masterpiece, built in 1891, was a spectacular backdrop to the event.
To compliment this beautiful building, numerous art projects showed off the skills of some of Czechia's talented makers. I especially loved the hand blown glass steam engines created by Michal Zahradník.
There were plenty of hands-on activities that kept all of the attendees entertained all weekend, but especially the young makers who may have been discovering their future passion.
Of course with a 3D printing company backing this show, 3D printing featured heavily at this Faire. 3D Farmer, a student project by Jan Trejbal and Krištof Pučejdl, juggled build plates all weekend showing off a prototype to automate the 3D printing process and 3D Čokotiskárna made delicious chocolate treats for attendees all weekend.
In the center of it all, the Prusa team built a stylish booth with the help of the new CNC machines in their recently launched public makerspace Prusa Labs. When in his booth, Jo was happy to take a moment to pose for pictures with some of his fans.
Even in such a stacked show, there were a few projects that really stood out for me.
This student-made geodesic dome had a plywood base supporting a cardboard top. Each of the cardboard panels were hand cut by students and held together with binder clips making it super easy to transport. The dome not only runs planetarium software but also immersive games created by the students. The whole thing was created for about $1000, a huge savings for a functioning planetarium dome. Now if only it had air conditioning :).
In the olden days, player pianos were created with rolls of paper that had holes in them that controlled which keys were pressed. This student-built player keyboard serenaded the crowd with a bevy of songs – including hits from Adele – and uses 7 Lego Mindstorms controllers.
We see lots of nixie tube projects at various faires created from vintage tubes made 30+ years ago, but the tubes being shown by Dalibor Farný aren't old stock – they're brand new tubes the company made themselves. They researched the now dead process, bought what equipment they could, and made what else they needed to bring these popular displays back to life.
Vortex cannons are cool, GIANT vortex cannons are awesome! The team from LABORKY.CZ brought the biggest vortex cannon I've ever seen to the show, knocking down boxes and blowing back the hair of attendees all weekend long.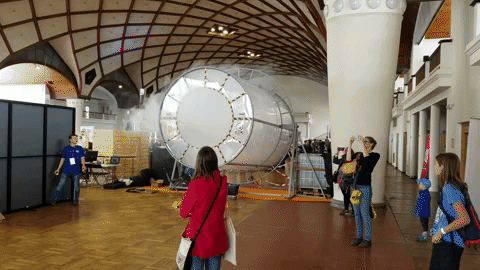 Discuss this article with the rest of the community on our Discord server!