Looking for a great starter robot project? Doug Paradis is an active member of the Dallas Personal Robotics Group, and last year, they were looking for a way to help their beginner members strengthen their robot-building chops. Thus, the Tiny Wanderer was born.
We produced a series of lessons covering 5 topics needed to make a simple, programmable robot: making PCBs with the toner transfer method, programming ATtiny microprocessors, laying out circuit boards using KiCAD, using Inkscape to design robot parts, and programming state machines.

The Tiny Wanderer is the starter DIY robot model we designed to support the series. It uses the unintimidating ATtiny85 chip, which is less complex than larger chips, and the new kit version lets you easily swap in an Arduino. The chassis, inspired by the now-discontinued Oomlout SERB, has benefited from constant modification and tweaks by DPRG members. Its two IR LED/sensor proximity "feelers" were originally designed to let the bot wander around a tabletop without falling off, but they can be repurposed for obstacle avoidance and line-following.
Doug documented the step-by-step Tiny Wanderer build and shared it with us on the pages of the newest issue of MAKE, Volume 29 (on newsstands now). We took it a step further and shared the whole build with you on Make: Projects. And the Maker Shed has put together a complete Tiny Wanderer kit for folks who'd rather get to building than searching for components. And Make: Labs engineering intern Eric Chu shared details and video of their Tiny Wanderer build last week.
Plus, here are two videos from Doug showing Tiny Wanderer's tabletop and line-following tests:
From the pages of MAKE Volume 29: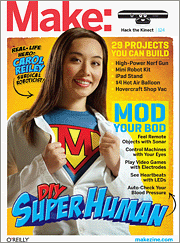 We have the technology (to quote The Six Million Dollar Man), but commercial tools for exploring, assisting, and augmenting our bodies really can approach a price tag of $6 million. Medical and assistive tech manufacturers must pay not just for R&D, but for expensive clinical trials, regulatory compliance, and liability — and doesn't help with low pricing that these devices are typically paid for through insurance, rather than purchased directly. But many gadgets that restore people's abilities or enable new "superpowers" are surprisingly easy to make, and for tiny fractions of the costs of off-the-shelf equivalents. MAKE Volume 29, the "DIY Superhuman" issue, explains how.
Discuss this article with the rest of the community on our Discord server!