By Garth Johnson
CRAFT is excited to announce our new monthly columnist, Garth Johnson of Extreme Craft, who will be writing about crafter extraordinaires. Welcome Garth!
Isabelle Baril-Ortley knows how to kick it up a notch. When I was drawing up the short list of names for my inaugural Extreme Craft column for CRAFT, Isabelle's name kept coming to the top. Since Halloween is coming up, I have no choice but to expose CRAFT's readership to the mogul of mischief, the skipper of spooky, the master of macabre, the head honcho of Halloween… Isabelle Baril-Ortley.


Isabelle first came to my attention about five years ago, when she appeared like a bolt out of the blue on the Martha Stewart show. Amid a sea of cranberry scone recipes and window treatment ideas, Isabelle rocked the show with perhaps the best infant costumes ever known to man.

Isabelle's obsession with Halloween dates back to a 7-year stint as a nanny. She used the serious craft chops that she had picked up as a child in Quebec, where making stuff came as second nature to her family. As Isabelle recalls, "My grandma was a doll maker and my mom sewed. My aunt was a well-known artist in Canada, and my grandma was a florist. I had a lot of talented people in my family."
After moving to California to finish high school, she started working as a nanny by day and going to school at night. Instead of buying off-the-shelf plastic costumes for the kids, Isabelle helped the family that she worked for come up with amazing handmade costumes. As her notoriety as a costume artist spread, neighbors begged her to help them out with her costumes as well.


"The first year, I made a Wonder Woman costume, right down to the plastic-y vinyl boots. One year I made a hermit crab costume because one of the kids had a hermit crab. The first year, I made five costumes… and then the neighbors started to ask me to make their costumes. In order to make costumes like a pink poodle, I couldn't get the materials I needed, so I started buying dye and dyeing white fur and brushing it out to get the right texture, putting it in the dryer so it got all tangly. Every year, we would start thinking about our costumes in January."
When Isabelle got married, she moved on to raising her own family. When her son Hudson was born, she was invited to her old family's Halloween party. She knew she couldn't just show up as any old witch or ghost. She got the idea for a Martha Stewart costume (her friends all called her "French Martha" because of her crafty obsessions). The only problem was that she needed a way to work Hudson, who was only five months old, into the costume.


Then inspiration struck. She put on a wig and her "It's a Good Thing" apron and made a soft foam roast turkey costume for Hudson, complete with a silver platter to carry him on. "At the party, he was such a big hit, and people were freaking out. To me, it was just another crazy costume that I made. I went on the Martha Stewart site and found a place where you can ask a question. I told them about the turkey costume and the silver platter, and asked if there was anywhere that I could send a picture."
She got a phone call at 6:30 the next morning. It was a Martha Stewart producer who arranged to fly Isabelle to New York for a taping that would feature Hudson's turkey costume. The first appearance on the show led to three others — including the infamous appearance featured above, when Isabelle showed up with a lemon meringue pie, an apple pie, and a Caesar salad to go with her original turkey costume. Reaction to the clip was immediate. It was featured on The Soup with Joel McHale, and also became an instant YouTube classic (full disclosure — I was the one who originally posted it). Despite the fact that no babies were harmed in the making of the clip (excepting maybe Caesar Salad baby's pride), vituperative responses from internet trolls started showing up on the YouTube page.
"i knew martha ate babies."
"Martha should have done this with consenting adults, I'm going to call it child abuse and danger to their well being. I hope the lawyers go after their money and give it to people with good ideas."
"You both are very sick mind women, also all these babies parents are very sick too.
Poor babies they don't know they are Thanksgiving dinner."
When asked about the internet reactions to the clip, Isabelle shrugged them off, saying that "99 percent of people tend to laugh and think that it's outside the box and funny, but then there's always that 1 percent of people who freak out because I'm putting a bunch of babies on a table, or that I went to all that trouble for Halloween. There are bitter people everywhere".


The most remarkable thing about Isabelle's baby costumes are their materials. While she's handy with old standbys like upholstery foam, fabric, paint and faux finishes, she has a Hollywood special effects expert (or a sculptor's!) eye for finding weird materials that just… work. Seeing her husband using expanding foam insulation on some windows around the house was the inspiration that led to the topping on the lemon meringue pie. Felt made a realistic, soft pastry crust, white glue with a little bit of yellow coloring became butter for the lobster, and puffy paint accents were used throughout.


Isabelle also has an eye for detail. The turkey wouldn't have been complete without the little cartoon lace booties on the legs. The food costumes are fully accessorized with enough fixins to make them a proper Thanksgiving feast. "If you have somebody entering a Halloween party, that element of shock — that thing that makes it a little bit more special, that's what I go for. If somebody wants to go as Barbie for Halloween, don't just be a Barbie with high heels and a tight dress and put on lipstick. Just paint your whole face and body shiny beige, and you'll look like a Barbie."
Five years after the original Martha clip, Hudson has two new brothers — Dalton, who is 3 ½, and Penn, who is 1 ½ years old. As you might expect, Ortley's house in Encinitas, California is a hive of crafty activity, with constant activities involving the boys. In between cooking, cleaning and shuttling the kids back and forth to the beach in her vintage camper, she manages to find time to make little craft projects. One of the most recent was born out of necessity — a felt pouch to keep baby teeth in for visits from the Tooth Fairy.
Of course there is always Halloween. The planning and excitement lasts all year. It's tough to beat food-based baby costumes, but Isabelle is always trying. Last year, the boys wanted to be superheroes. Instead of choosing Superman and Spiderman, she chose to make costumes that were a little obscure, with a dash of retro thrown in for good measure. She dressed the boys as the Incredible Hulk, Captain America and Aquaman.


Rather than make slick, high-tech costumes (which she could easily have done, given her sewing chops), Isabelle chose a low-tech route.
"I got pants and tops at the dollar store, then dyed them the exact colors that I needed. I didn't want them to look perfect, because then it doesn't look like they were handmade. Instead of going under, I sewed muscles over top of the T-shirts. I hand-stitched the muscles just like you would stitch a patch or an appliqué. For the Aquaman costume, I found sparkly fish scale fabric, which helped add texture and the reflection in the sun that day. The boys were so excited."
Another of Isabelle's crowning achievements was the year she and the boys dressed like the cast of Star Wars. Accompanied by two of her sons dressed like Luke Skywalker and a customized Stormtrooper, she dressed like Princess Leia and carried her youngest son in a wookiee costume.


"That one was hard to figure out, because I couldn't find fur that was brown and didn't look like bear fur. I needed something that was kind of stringy and gross, so I bought white fur and dyed it two different shades of brown. It still wasn't clumpy and gross enough, so I diluted several different brown acrylics with water and painted it with a brush, tangling it all together. Then I combined the fur with an old snowsuit and used puffy paint to paint the face on the top of the hood, so when he was sleeping with his head forward in his BABYBJÖRN, all you would see was Chewbacca's Face."


There are too many other costumes to describe here — a baby starfish costume featuring real suction cups, a purple iris (Isabelle is almost as obsessed with gardening as Halloween), a pink poodle, a caterpillar costume for a crawling infant, and of course costumes for mom and dad.
Isabelle Baril-Ortley is always cooking up something new.
Literally.


On November 5th, she'll be organizing a food swap for her community in Encinitas. Residents can show up with baked good, home canning, fresh vegetables, or even extra fruit from their backyard trees. In her characteristic style, Isabelle is "kicking things up a notch". In addition to other canned treats, she'll be providing canned pears with vanilla beans and lavender blossoms from her garden.
"You can bring something like banana bread. If you bring ten loaves of banana bread, you can wind up trading it for backyard eggs, jam from a local farmer, spaghetti sauce or curry starter. You can come home with a basket full of a week's worth of deliciousness… all for a few hours of making banana bread. It's all about bringing people together and teaching them canning. California is such a perfect place for a canning renaissance, particularly in this economy."
When I asked her about this year's Halloween costumes, I thought she would be mysterious or coy. Instead, Isabelle started to enthuse about this years plans, and told me that as her sons are growing up, they're starting to request… nay, insist on certain costumes. One son wants to be a ninja, another wants to be a mummy, and the other wants to be Wolverine. Rather than concede to ordinary costumes, she is now lobbying her boys to "kick it up a notch". With a bit of Papier-mâché finesse, the costumes can be transformed into LEGO NINJA, LEGO MUMMY and LEGO WOLVERINE.
I see another Martha Stewart appearance in her future… or maybe it's time for Martha to admit defeat and turn her crown over to "French Martha."
About the Author:


Garth Johnson is a studio artist, writer, and educator who lives in Eureka, California. He is a craft activist who explores craft's influence and relevance in the 21st century. His weblog, Extreme Craft is a "Compendium of Art Masquerading as Craft, Craft Masquerading as Art, and Craft Extending its Middle Finger."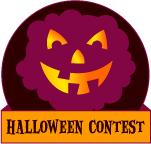 Inspired to craft something for Halloween? Be sure to enter it in our CRAFT Halloween contest to win cool prizes. Costumes, decor, food, props – whatever you create for Halloween is welcome in the contest. Read our contest page for all the details. Deadline to enter is November 8.
Discuss this article with the rest of the community on our Discord server!