[blip.tv http://blip.tv/play/AceBYwA]
Download the MP4 Video or HD Version | Subscribe to CRAFT in iTunes
Take a little video tour inside the new issue of CRAFT: 08, our Weaving issue where you'll learn the basics of weaving from using a paper loom to making your own! The summer issue celebrates the season by featuring fun projects from sewing a ruffle dress to making your own cold-brew coffee. View the complete table of contents.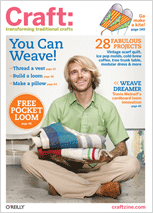 Subscribe to CRAFT Magazine
Craftzine readers can now get $5 off a yearly subscription by entering the code MCRAFT. That's just $29.95 for 4 quarterly issues!
Related:
Discuss this article with the rest of the community on our Discord server!