Diane of CraftyPod has a tutorial up on CraftStylish showing you how to make a recycled necktie scarf.
From the pages of CRAFT: 08:


"Necktie Glasses Case," by Diane Gilleland, pgs 120-121. Preview the article here in our Digital Edition.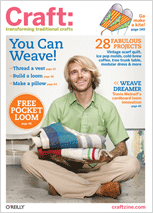 Subscribe to CRAFT Magazine
Craftzine readers can now get $5 off a yearly subscription by entering the code MCRAFT. That's just $29.95 for 4 quarterly issues!
Discuss this article with the rest of the community on our Discord server!