By Kami Bigler
This festive bat mobile would look great in your entry greeting visiting trick or treaters on Halloween night. With so many different kinds of cool papers available these days, you could really make this your own!
Materials
One old lamp shade with the okay to take it apart
Black fabric I chose black with silver polka dots, but any black pattern would look great!
Hot glue gun
4-5 sheets black card stock I used glittered black card stock
Bat shaped die-cut or bat shaped paper craft punch
Clear fishing line or clear jewelry making string stretchy or not
Crimp beads
Jewelry making crimping tool
Thimble
Needle
Directions

Step 1: Take all fabric off of old lamp shade, so that you are just left with the metal frame.



Step 2: Make about a 1″ cut to give a start for tearing strips of the black fabric. Start with about 10 strips of fabric and make more if needed.


Step 3: Wrap the entire metal frame of the old lamp shade with the torn fabric. It helps to hot glue the piece first to start the wrapping process.


Step 4: With 3 extra strips of fabric, hang the lampshade up while you work on the next steps.


Step 5: Using your bat shaped die-cut or paper craft punch along with your black card stock make a bunch of bat paper shapes (at least 30 and more if you'd like).
Step 6: With a thimble and a needle, poke a hole in the wing of all the bats, alternating sides for each bat to make it not too uniform.


Step 7: Thread the clear fishing line or string through the hole in the wing of the bat.


Step 8: Add a crimped bead just below the bat to keep it from sliding down.
Step 9: Repeat by adding more bats along with crimp beads below to each clear string remember to space the bats at least 1″ apart.
Step 10: Hang the clear line to the lamp shade with another crimp bead, crimping it tight so that it won't slide around.


Step 11: Repeat by adding all of the clear lines onto the lamp shade frame. (I used 11 lines of string with bats.)


Step 12. Find a great place to hang your creepy bat mobile, and Enjoy!
About the Author:


Kami Bigler runs the blog no biggie, a family lifestyle blog highlighting her three favorites: crafts, cooking and thrifting. She loves to spend her non-blogging hours with her husband Kyle, their two children and one puppy faced dog, Rukkus.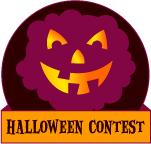 Inspired to craft something for Halloween? Be sure to enter it in our CRAFT Halloween contest to win cool prizes. Costumes, decor, food – whatever you create for Halloween is welcome in the contest. Read our full contest page for all the details. Deadline to enter is November 2.
Discuss this article with the rest of the community on our Discord server!