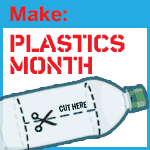 Jim Smith built a huge RepRap-based 3D printer and used it to print a really big part. It was supposed to be a little bigger, but the extruder jammed after running continuously for 48 hours.
I recently printed what I believe is the largest single part printed by a custom designed, RepRap based, home-built 3D printer. The part measures 376 x 376 x 250mm [14.80 x 14.80 x 9.84in] and took just under 2 days to print with a .25mm layer height.

I used Solidworks to design this cool looking part so that it would max out my build volume on the printer. The part was designed and printed hollow, with a single wall thicknesses (0.5mm) and is made of fully recyclable ABS plastic (for example this is basically the same plastic LEGOs are made from). By printing the part hollow, as opposed to a complete solid, the part is much less likely to warp during printing. In fact, this part did not warp at all. It came out quite nicely and only required minimal clean-up with an exacto knife.
Discuss this article with the rest of the community on our Discord server!