The engineers at Namiki Laboratory have used a high-speed robotic arm coupled with motion detection and a fair amount of programming to create this robot that plays a wicked game of air hockey.
Some may say that such a use for this technology and brain-power is wasted on something so frivolous. Why can't we make a robot that can complete a task with a more humanitarian aim?
There are many ways to think about and interpret robotics. The futurist Ray Kurzweil believes that each task a computer or robot can do just as well as a human is another step closer toward the singularity. In short, the singularity is the idea that since technology grows at an exponential rate, the curve will become so steep as to be virtually infinite, at which point any number of things can occur. Doomsayers think it could spell a robot apocalypse or gray goo phenomenon, but Kurzweil believes it will lead to an accelerated fusing of technology and human until the two are basically indistinguishable. When this happens, entire brains can be uploaded to computers and individuals can live forever.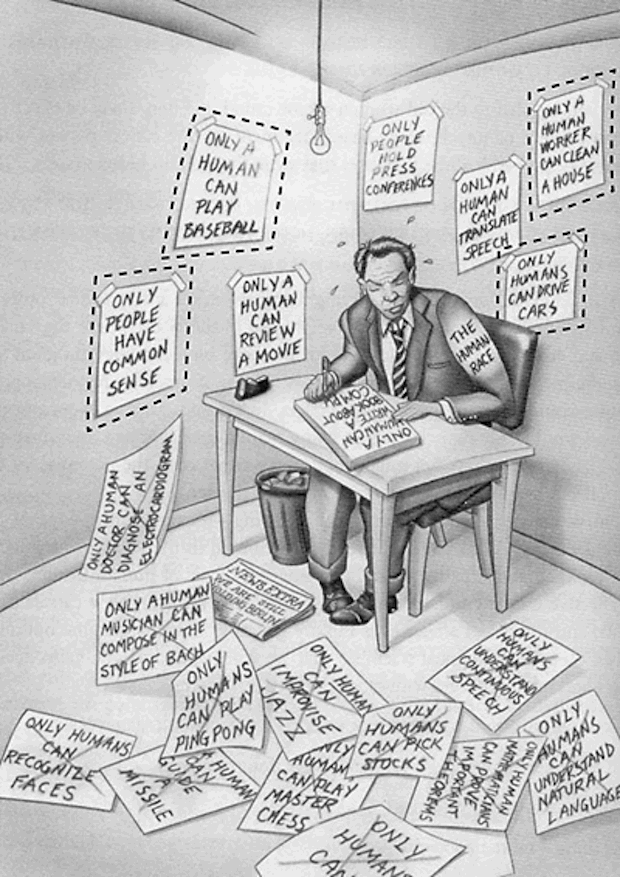 The cartoon above is from Kurzweil's 2005 book, The Singularity is Near. Notice that one of the pieces of paper taped to the wall says "only humans can drive cars." Since the book's publishing, Google has developed a driverless car. It's one more notch toward the singularity. I recently wrote about a robot that can play Badminton, and now we can cross Air Hockey off the list too.