I hope everyone is hanging on to their scraps from Halloween projects! You never know what you can do with them once spooky season is over. I cut two 4.5″ squares from my leftovers for a pin cushion. I added a leftover piece of Simplicity pom pon fringe to the top, put wrong sides together and stitched around on my machine. I flipped it right sides out and stuffed the inside with scraps that were too small for another project. Voila!
Anyone out there already brainstorming ideas for their leftovers?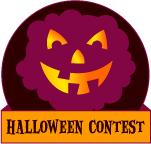 Inspired to craft something for Halloween? Be sure to enter it in our CRAFT Halloween contest to win lots of cool prizes, including a Singer Futura XL 400 sewing and embroidery machine! Costumes, decor, food, props – whatever you create for Halloween is welcome in the contest. Read our contest page for details. Deadline to enter is November 8.
Discuss this article with the rest of the community on our Discord server!