I was late off the block for Halloween this year, and only decided yesterday to pass out candy. I wanted a clear signal for trick-or-treaters that my house was open for business, and I didn't want to spend any money. This is my last-minute solution.
The glass globe is actually white; the orange color comes from the CFL "bug light" inside. I drew the face on free-hand, with a Sharpie, then filled it in with pieces of black electrical tape trimmed to shape, in place, with a hobby knife. Electrical tape works great for this because it's elastic enough to smooth down against a round surface. The leftover sharpie marks were easily cleaned off with a paper towel and a dab of rubbing alcohol.
The result was much better than I expected. If I weren't ineligible, I'd probably enter it in the Halloween contest "decor" category. There are a few more pics in my Flickr set.
---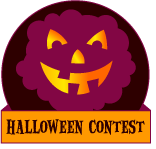 Inspired to make something for Halloween? Be sure to enter it in our MAKE Halloween contest to win cool prizes. Costumes, decor, food, whatever you create for Halloween, is welcome in the contest.
Read our full contest page for all the details.
Discuss this article with the rest of the community on our Discord server!