[Click on image to enlarge]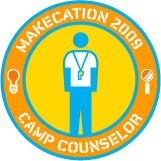 Dave Hrynkiw, who runs Solarbotics and HVW Technologies, is our virtual Camp Counselor for "Teach Your Family to Solder" week. One of the things I love about Solarbotics' kits is that they always have excellent, and funny, documentation. Each of these instruction booklets includes the brief soldering tutorial posted above. Really, that's all the basics you need to know. We'll have more detailed tutorials, tips, videos, etc, throughout the week, but armed only with this "quick reference card" and the basic tools, as outlined in my Toolbox column, you'd have what you need to solder successfully. If you're going to be teaching people how to solder, print out the above and have it on-hand for your students.
If you have any questions for him related to soldering, send email to campcounselor@makezine.com.
More:
Toolbox: Soldering essentials, Part 1
MAKEcation: "Teach Your Family to Solder" week
Let's take a Summer MAKEcation!