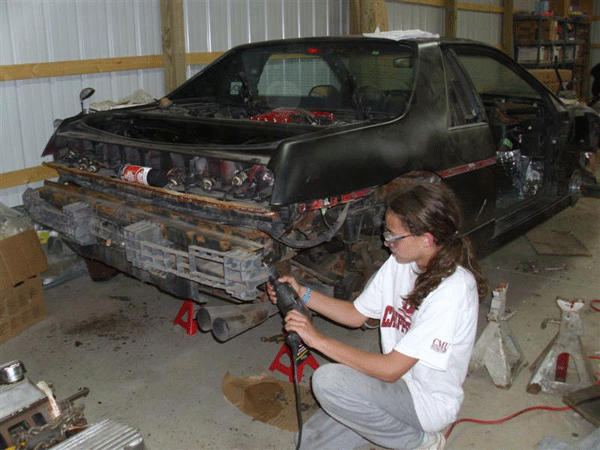 Having worked at MAKE since the first issue, I've had the good fortune of attending every Maker Faire Bay Area we've ever had. I've watched it grow from a first-time event drawing around 25,000 people in 2006 to a gathering of 110,000 friends in 2012. I've met countless inspirational makers and have the honor of doing an interview series every year leading up to the Faires. With this year's Maker Faire Bay Area coming up on May 18 and 19 in San Mateo, I was looking over my interview lists from years past and was struck by these seven cool ladies I had interviewed, with diverse maker interests ranging from restoring Fieros to building musical instruments to making Arduino-powered cat feeders.
Check them out:
Three years ago, when Kathryn DiMaria (pictured above) was at the wise age of 12, she made her parents an interesting proposal: she had saved her babysitting money and wanted to buy a cheap, used Pontiac Fiero to restore herself. Her goal was to have her project completed by her 16th birthday. Spoiler alert: she's almost there. She and her dad Jerry have been documenting her build on a Fiero forum. [Interview]
Veronika Scott is one Detroit maker who has put her time and energy into making a difference in the community. Veronika spearheaded The Empowerment Plan, a Detroit-based humanitarian project which centers around the Element S Coat, a self-heated, waterproof garment that transforms into a sleeping bag at night. The coat is made by a group of homeless women who have been paid to learn and to produce the coats for those living on the streets. [Interview]
New York-based Julie Covello, aka DJ Shakey, has been a DJ for 20 years. She makes her own instruments, volunteers her time to teach young girls to DJ, has 9000 vinyl records in her collection, and hosts an annual gatherings for forward-thinking electronic musicians called Warper Party. [Interview]
Marnia Johnston is a San Francisco Bay Area sculptor and co-creator of the robotic TE+ND (Terrestrial Exploration + Nurture Designed) Rovers, which care for their own garden of native plants by interacting with participants and actively seeking out light and water. [Interview]
Since 2006, Detroit-based artist Bethany Shorb has been making some of the most original hand silkscreened ties on the planet through her company Cyberoptix Tie Lab. Designs include circuit boards, tools, chemical compositions, to name a few. If you didn't think you liked ties, you might have to think again. [Interview]
Suzi Winston is director of New York City's Circus Warehouse, a training center for aspiring circus professionals. Classes include Flying Trapeze, Lyra, Silks, and Acrobatic Balancing. She's also been a lifelong dancer, trained in classic ballet. [Interview]
Fifth grader Ella Smith made the Zevrino Arduino-powered cat feeder, a project she collaborated on with her father. The Zevrino consists of an Arduino Uno, Arduino motor controller, DS1307 real-time clock with battery backup, a toggle switch, two low-speed motors, and two Zevro dry food dispensers. She also gave a great talk on our MAKE stage at Maker Faire Bay Area 2012. [Interview]
Discuss this article with the rest of the community on our Discord server!