Here is the latest installment of Roy Doty's comic strip, "Eureka," from the pages of MAKE Volume 29. To see the whole series, visit the Eureka! archive.
MAKE Volume 29: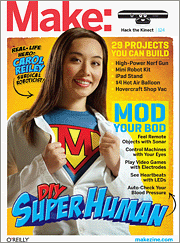 We have the technology (to quote The Six Million Dollar Man), but commercial tools for exploring, assisting, and augmenting our bodies really can approach a price tag of $6 million. Medical and assistive tech manufacturers must pay not just for R&D, but for expensive clinical trials, regulatory compliance, and liability — and doesn't help with low pricing that these devices are typically paid for through insurance, rather than purchased directly. But many gadgets that restore people's abilities or enable new "superpowers" are surprisingly easy to make, and for tiny fractions of the costs of off-the-shelf equivalents. MAKE Volume 29, the "DIY Superhuman" issue, explains how.
Discuss this article with the rest of the community on our Discord server!