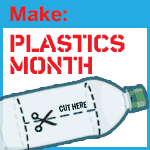 It was a pleasure to present the Makey awards on the special Make: Live show at World Maker Faire NY 2011. There I met Tom Simpkins, accepting the award for PanaVise, a Reno, NV company that developed a maker's improvised vise improvement into an accessory for the product – the speed control handle. As Tom handed me the injection molded plastic part I noticed the paper packaging– featuring its "Makey nominated" status.
We're delighted to see the awards grow legs in the industries that serve the maker community. As John Park put it, the Makeys are "like MacGuyver's version of the Good Housekeeping Seal of Approval."

If you'd like your own speed control handle, we're still accepting entries for freebies over on the Make: Live page, and the Maker Shed is putting a free speed control handle in every PanaVise Jr. box from now through January 2012.
Discuss this article with the rest of the community on our Discord server!