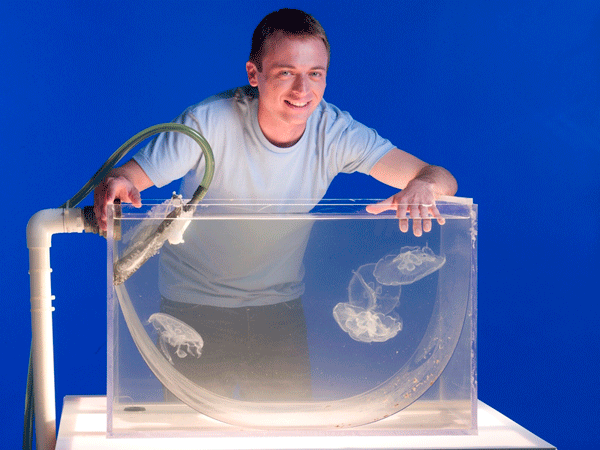 Though MAKE Volume 27, which hits newsstands on July 26, is the Robots issue, like all issues of MAKE, it features a wide variety of projects. One of the major projects in Volume 27 is Alex Andon's Jellyfish Tank. Jellyfish are hypnotic, with their translucent bodies, sweeping tentacles, and fluid motion, but they require custom tanks to prevent them from getting sucked into filtration intakes. On the pages of Volume 27, Andon, who studied biology and environmental science and is founder of Jellyfish Art, teaches you how to either convert an existing aquarium into a jellyfish habitat or how to build your own custom tank from scratch. Your choice.
Here's the "how it works" visual breakdown:

The Jellyfish Tank is one of a few projects from the new issue that we've shared with you on Make: Projects, our DIY wiki. Head on over and check out the full project build. If you're a subscriber (thanks, we love you!), you likely have your issue in hand and can turn to the project on page 82. If not, be sure to pick up Volume 27 when it hits newsstands next week.
Photograph of Alex Andon with the Jellyfish Tank by Garry McLeod; illustration of how the tank works by James Provost.
---
From the Pages of MAKE
MAKE Volume 27, Robots!
The robots have returned! MAKE Volume 27 features a special package with robotics projects for every age and skill level. They play music; they outwit your pets; they learn from their mistakes! In addition, we'll show you how to build a special aquarium to keep jellyfish, create pre-Edison incandescent lighting, spy via the internet, and make a go-anywhere digital message board! All this and much, much more, in MAKE Volume 27.
Discuss this article with the rest of the community on our Discord server!