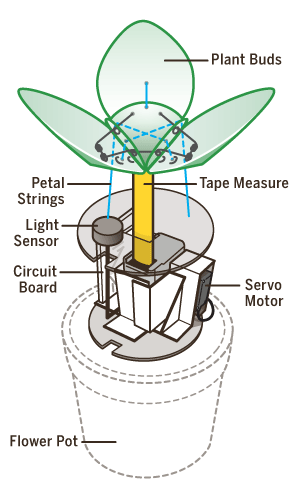 We asked MAKE illustrator Damien Scogin to create some drawings so that folks could better understand the functioning of the basic robot plant design we're using in the Micochip/Energizer Make It Last Build Series, Project #2: The Robot Plant. As we've said, you don't have to make yours this way, this is just one idea, the one we're using in our build. We've already gotten some cool designs submitted to the MAKE Flickr pool. We're giving special prize bundles to the first five people who upload their robo-plant designs to the pool (tag them "robotplant"). We still have a couple of packages to give away. See issue #2 of the Robot Plant Project Newsletter for more details on this little "Plant Design Challenge" and see the Make It Last landing page for full details of the build series and the contest. Prizes for the winning robo-plants include a $200 gift card and copies of Make: Electronics.
If you're not signed up for the project mailing list, you can sign up here. It'll sign you up for this project/contest and similar future mailings. The next newsletter and blog post, covering construction of the flower and touch-sensing, will go out tomorrow.
Sign up for the newsletter:
Discuss this article with the rest of the community on our Discord server!