Meet Doug Paradis, a member of the Dallas Personal Robotics Group and Dallas Makerspace. In MAKE Volume 29, Doug wrote about making the Tiny Wanderer, a beginner-level robot that autonomously navigates with a $2 microcontroller. (A Maker Shed kit is also available.) Doug is interested in microcontrollers, robots, crafts, and fishing.
What's your background?
I live in Richardson, TX, a suburb of Dallas, with my wife Susan. I am an Electrical Engineer by profession. I backpack, fly fish, build robots, play with microprocessors, do some leather work, and build clocks. There are interesting projects to be had in all of these activities.
Why do you like making things?
Making things is fun. I constantly find myself asking "How could this be done differently?" when engaged in almost any activity. I take great pleasure in learning a new technique or skill. With each skill I learn, more possibilities open up.
Tell us about your Tiny Wanderer project, which you wrote about in MAKE
The Tiny Wanderer was built as a demonstration tool for a series of lectures held at the Dallas Personal Robotics Group (DPRG) in early 2011. It turned out to be a great training aid and beginner project. The lecture series covered PCB fabrication using the toner transfer method, using KiCAD, programming the ATTiny, using Inkscape, and State Machines. Videos of all the presentations are available on DPRG's YouTube channel.

What are your upcoming projects?
I'm currently building an autonomous navigating robot for an inside environment. The next step will be a robot suitable for outdoor roaming. My hope is to be able to allow it to go off into the woods and have it return to its starting point. I am also very interested in designing my version of a homemade CNC router. I have to fight to stay focused, because there are so many interesting projects to build. I attempt to follow a philosophy of having a main project that I drive to completion, while using some real simple projects to help me recharge my ideas on the main project.
Can you tell us about one of your favorite tools?
As a member of Dallas Makerspace and Dallas Personal Robotics Group, I have access to a Full Spectrum laser cutter. This tool, along with Inkscape, has allowed me to quickly explore ideas and design choices with incredible speed and accuracy.
Here are more Tiny Wanderer Videos:
Video of Tiny Wanderer (MAKE kit) in avoidance-sensor configuration
Tiny Wanderer (MAKE kit) in line-following configuration
Video of Tiny Wanderer (not MAKE kit) doing line following
Video of Tiny Wanderer on table (not MAKE kit)
From the pages of MAKE Volume 29: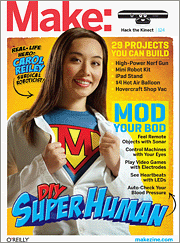 We have the technology (to quote The Six Million Dollar Man), but commercial tools for exploring, assisting, and augmenting our bodies really can approach a price tag of $6 million. Medical and assistive tech manufacturers must pay not just for R&D, but for expensive clinical trials, regulatory compliance, and liability — and doesn't help with low pricing that these devices are typically paid for through insurance, rather than purchased directly. But many gadgets that restore people's abilities or enable new "superpowers" are surprisingly easy to make, and for tiny fractions of the costs of off-the-shelf equivalents. MAKE Volume 29, the "DIY Superhuman" issue, explains how.
Discuss this article with the rest of the community on our Discord server!