This spider web necklace from Margot Potter might be a few years old, but it's still stunningly beautiful and looks like it would be fun to make and would be quite the show stopper at a Halloween party. Get the full how-to over on her blog.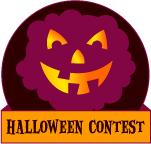 Inspired to craft something for Halloween? Be sure to enter it in our CRAFT Halloween contest to win cool prizes. Costumes, decor, food – whatever you create forHalloween is welcome in the contest. Read our full contest page for all the details.
Discuss this article with the rest of the community on our Discord server!