Make: Live's Halloween bash
featured action stylist Anney Fresh, electrically-enhanced pumpkins aka "hack-o-lanterns", and a costume parade by attendees at the party hosted by MakerBot in Brooklyn, NY. Matt and Becky open the show with an homage to
The X-Files
.
Subscribe to the Make: Live Podcast in iTunes, watch Make: Live episode 18 in its entirety (or download in m4v format). Also check out the chat room transcript!
Missed the Digi-Key giveaway? Sign up for our second chance giveaway- go to makezine.com/live to enter to win one of 20 MAKE Halloween Special editions (print for US/Canada, PDF for other international). Drawing ends 11/8/11.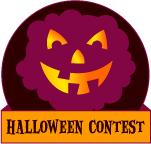 Inspired to craft something for Halloween? Be sure to enter it in our CRAFT Halloween contest to win lots of cool prizes like a Tulip prize basket, tools from GarrettWade, and a Singer Futura XL 400 sewing and embroidery machine! Costumes, decor, food, props – whatever you create for Halloween is welcome in the contest. Read our contest page for details. Deadline to enter is Nov 8.