Travis Meinholf and I both have work in MoCFA's Open Source Embroidery show, and although I'm sad I couldn't make it out to the opening, this video of Travis Meinolf describing his weaving installation makes me feel like I was there! [via Teagan Tall]
From CRAFT: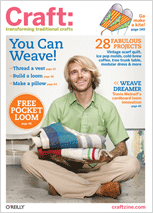 Check out CRAFT, Volume 08: Weaving!
Buy the back issue in the Maker Shed.