Okay, mom, dad, so maybe you're feeling a little of the ol' economic pinch and the idea of stuffing the brood into the family cargo pod, filling its belly full of precious dinosaur squeezin's, and setting off for Wally World just doesn't sit comfortably on your bottom line this summer. You've decided to stay at home and the kids are non too thrilled about it. Why not get everybody together and announce that the family isn't going on a vacation this year, you're going on a MAKEcation. You're going to spend some quality time together as a family, making cool projects and learning some new skills in the process. And you're going to document your DIY summer and send your MAKEcation videos and pics to Make: Online, to seek fame (and a few nifty prizes) in the process.

Welcome to Make: Online's MAKEcation, 2009
Over the next few months, we're going to be running contests, issuing family challenges, offering project ideas and tech tips, all geared towards families doing DIY together at home. If you REALLY want to go away, we're also going to be offering ideas on maker-oriented vacations, cool educational, hands-on destinations you can visit and fun things you can do on the road. But most of what we'll cover will be projects and activities for your kitchen table and backyard. We're also bringing on "Camp Counselors," experts in the area of each challenge. They'll be on-hand to offer advice, answer any technical questions, and to blow their whistles if things get too rowdy. We'll also have our counselors involved in helping us look through your MAKEcation videos and pictures to choose who to give prizes away to (more on that later).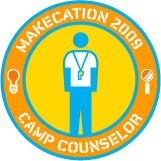 Our first MAKEcation project is "Teach Your Family to Solder" Week. Soldering is something that every maker should know how to do. Far too many people are intimated by the idea. It seems hard to do, it looks like it might be hard to do, and you think it is if you casually try it without the proper do and don'ts in mind (and the right tools). In point of fact, with a little practice and few key pointers, anybody, from about a tween to any-age adult (with decent enough eyesight and a steady hand) can do through-hole component soldering. We can almost guarantee that if you follow the instructions we'll be giving you throughout the week, and do some of the beginner projects we'll suggest (or similar), you'll be a successful solderer in a week's time. Knowing this skill will open you up to a lot of the projects you see in MAKE magazine and here on the site.
To help us for this project, we've enlisted the help of one of our favorite makers, Dave Hyrinkiw of Solarbotics and HVW Technologies. Besides running these two amazing mom and pop electronics shops, Dave is an icon in the BEAM hobby robotics community. The "A" in "BEAM" stands for aesthetics, so good BEAMbots are known for their arty, freeform construction (and that means neat and well-done soldering). Dave has been selling electronics and designing and building BEAMbots for as long as I can remember, so that makes him a perfect candidate to be our first MAKEcation Camp Counselor. Dave will be on-hand during the week and beyond, so if you have any soldering questions, send them to campcounselor@makezine.com. We'll collect them up and do a posting of any Q&A at the end of the week.
Later on today, I'll have a Toolbox column covering everything you'll need to get started in soldering. We also have the first of our MAKEcation bundles in the Maker Shed with several great beginner kits to get you started (plus a copy of the premier issues of MAKE, which includes an excellent soldering primer, and a copy of The Maker's Notebook, so you can document your family's MAKEcation).
Obviously, if someone in the family already knows how to solder, go ahead and start teaching all of the other eligible family members. Even kids that are too young to safely solder can get involved, by helping to put components in the holes on PCBs, clipping the leads on soldered parts, etc. Just make sure they're supervised, not close to the soldering irons, and that the power cables to the iron(s) can't be tripped over. Make sure to take photos/video of the family at work and send the links to us. And maybe dream up some cool project that everyone can work on together and document that as well.
Discuss this article with the rest of the community on our Discord server!