I like using the Ardweeny for Arduino projects; it's small, it's easy to pug into a breadboard, and it's inexpensive so you don't mind permanently embedding it. But what if you want to make the Ardweeny compatible with shields? That's where this ProtoShield for Ardweeny, available in the Maker Shed, comes in handy. It allows you use pretty much any Arduino shield with your Ardweeny. All the pins are broken out "Arduino style" for maximum compatibility and it features a large prototyping area to make a neat little development platform.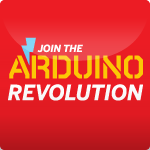 Features:

Let's you stack standard Arduino headers onto your Ardweeny. That's right! You can use your Ardweeny with standard shields
All pins on the Ardweeny are brought out to easy to access places
2 on-board LEDs and a button.
Mount shields above or below – after all, you may want the protoboard on the top
Mini breadboard for project work
SOIC pad
Power rails down the middle of the prototyping area.
Note: Ardweeny not included.
Discuss this article with the rest of the community on our Discord server!